09:29 AM - Stolen from LJ user dariachu - missing persons fund
CNN:
"The Philadelphia Citizens Crime Commission, with the help of a Philadelphia blogger, have launched a reward fund for information leading to Latoyia Figueroa, a 24-year-old pregnant mother of one who has been missing since July 18."
All Spin Zone:
"Because of the wide publicity this story has received in the blogosphere, All Spin Zone, in conjunction with the Philadelphia Citizen's Crime Commission, has established a reward fund for information on Latoyia Figueroa. More details here. Five or ten bucks each from the thousands who are reading this post today will make a tremendous difference."
This is not your average publicized missing persons case. Why? Latoyia doesn't have blond hair. She doesn't have white skin. She's not a cute, caucasian teenage girl. She's a dark-haired, brown-skinned, 24-year-old woman who is 5 months pregnant and has a daughter wondering where her mommy is. According to the news, only blonde, suburban teenage cheerleaders and little white girls in pink dresses get abducted.
Hmm.. where is all the media coverage?
I have to wonder, why does Natalee Holloway get the Nation's spotlight and the Swedish Airforce looking for her while so many other people go missing every day? Media sensationalism is ridiculous. You'd think that Natalee was the only person missing, anymore. Natalee gets 5600 hits on Google, and Latoyia get a total of 2. Regardless, I do wish the best for Natalee and her family.. and I wish a slow, painful death to anyone who may have caused her harm in this situation.
The goal, now, is to spread the word about Latoyia. Simply post about it in your LJ, or other blog. What's it going to hurt? It only takes one person to see the picture and identify her. I don't live in Philly.. I don't know Latoyia.. and my chances of ever seeing her a slim to none. But who can be sure? You could give a woman her life back.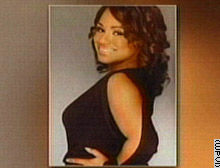 (Feel free to repost; I got the image from here, and figured I'd host it so photobucket doesn't take the whole brunt. If you can, please use either save that image and upload it to your own space, or use the photobucket one. While I like to lighten the load, photobucket still has more bandwidth than I'll ever have.)
listening to:
Billy Joel - Shades of Grey